Creative Decorative Window Film Ideas For Breckenridge Homes
Window film is known to be for security and/or industrial applications but there is a whole new world of window film we would like to tell you about called decorative window film.  Not just for store windows and signs anymore, today's decorative films are more lovely than ever and can really be applied to nearly any flat surface on your Breckenridge home. While decorative window film goes great on windows,  doors, walls, dividers, and glass cabinets are possibilities too. Whether you just want to add a little style to a room or change the entire design, decorative window film gives you myriad options for decorating and solving many issues. If your creative juices flowing are flowing or if you need a little more of a kickstart, read the ideas we came up with below.
#1) Decorative Window Film To Create A Stained Glass Look
Stained glass is lovely but expensive.  On the other hand, decorative window film is a cost-effective way to simulate the beauty and colorful effects of stained glass.   In some cases, decorative window film even gives you more design flexibility so you can try ideas that may not be possible on the traditional stained glass.
#2) Decorative Window Film For Stylish Privacy
Window treatments are sometimes hard to match to your decor. But curtains and blinds are essential for privacy.  Decorative window film is attractive, creative and fully customizable to give you exactly the level of coverage you want for different areas of the house like bedrooms, entryways, and bathrooms.  Beyond how sleek they look, this type of application is extremely creative and unique and are sure to delight your guests.
#3) Decorative Window FIlm For Lovely Style And Perfect Function
Places like breakfast nooks, entryways, and bathrooms, are all areas you want softly lit with an inviting look. As it were, and blinds and curtains are horrible for creating such a mood.  They are far too constraining both in form and function, hard to match and block natural light. Decorative window film is a way to get that elegant diffused look you want since it comes in many textures like etched, cut, sandblasted, and textured glass at a much lower price point than traditional patterned or sandblasted glass.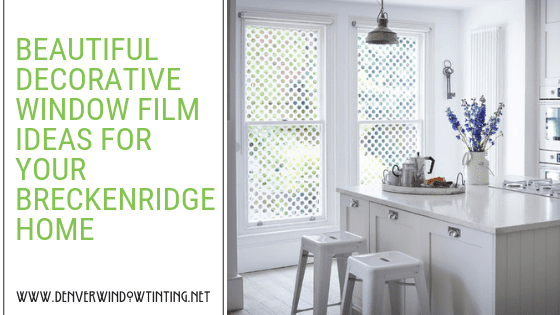 The only limitation with decorative window film is truly your own imagination.  Contact us at Denver Window Tinting today for more decorative window film ideas and to get pricing for your Breckenridge home.