Bird Divert for Denver Properties

Denver Window Tinting is excited to introduce you to the latest innovation in the window tinting industry – Bird Divert. As proud members of the Denver community, we're dedicated to preserving our city's natural beauty and wildlife. Bird Divert is more than just a window film; it's a groundbreaking solution that not only safeguards your property but also protects our avian friends. We're thrilled to offer this bird safety window film in neighborhoods such as Washington Park, Berkeley, The Highlands, Sloans Lake, Hilltop, and beyond!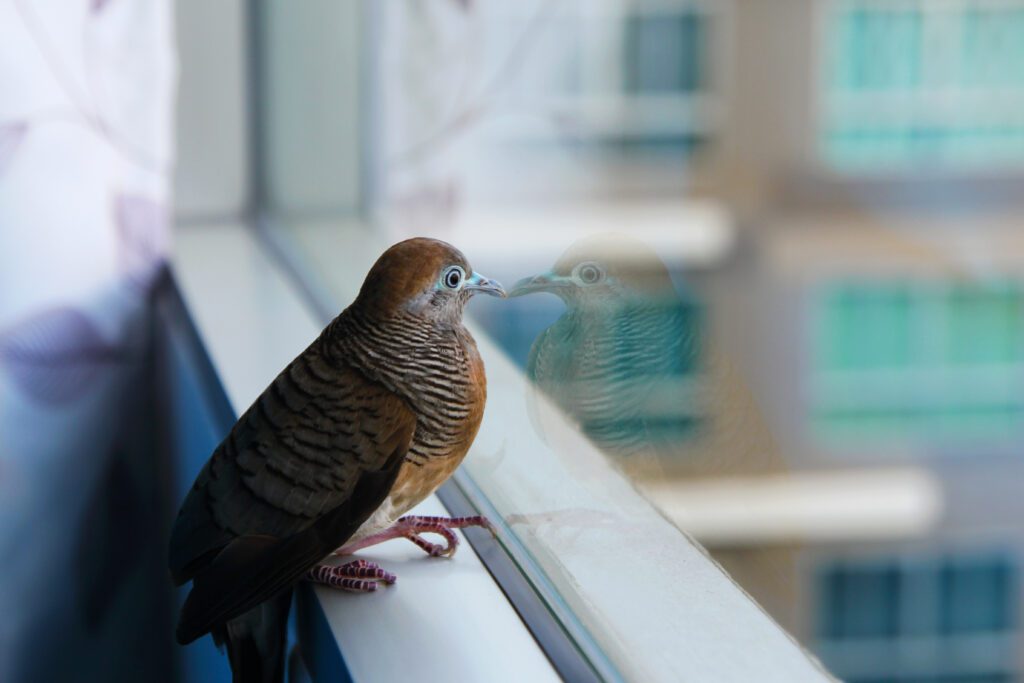 Glass Collisions: The Leading Cause of Bird Fatalities in Denver
Did you know that glass collisions are a leading cause of bird fatalities in Denver? Shockingly, up to 1 billion birds lose their lives each year in North America, and properties like houses and cottages contribute to approximately 25.9% of these fatalities. Low/mid-rise buildings account for an estimated 63.9%, while high-rise buildings are responsible for around 10.2% of these tragic incidents.
What's the reason? Birds perceive glass as an extension of their surroundings due to its reflective surface, making collisions unavoidable. But there's hope! Bird Divert can keep Denver avian populations safe!
Prevent Window Damage & Protect Birds
Created by National Window Film, Bird Divert is the most effective, optically-clear bird marker available today. It's designed to make glass visible to birds without affecting building aesthetics. Not only does this help keep birds safe, but it also prevents property owners from having to replace windows as a result of bird collisions, a cost that can add up significantly over time. Bird Divert is not just a product; it's a promise to protect both your property and our avian friends.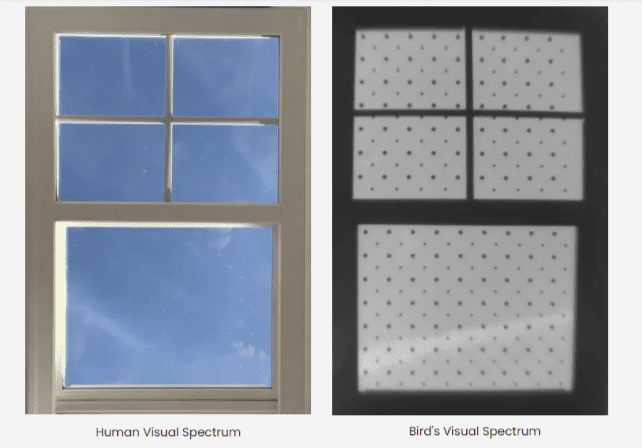 How Bird Divert Works
So, how does Bird Divert work? This innovative solution can only be seen by birds. It falls within their visible spectrum but remains invisible to humans. Bird Divert is a durable UV absorbing/reflecting dot matrix that appears black or violet to the avian eye while staying optically clear to us.
This unique feature is a game-changer in preventing bird collisions. It gives birds a clear signal to avoid the glass and ensures their safety. Bird Divert is a silent protector, virtually invisible to us but a lifesaver for our feathered friends.
Advantages of Bird Divert in Denver
Bird Divert incorporates proprietary UV reflective and absorbing technology, a feature recognized by the American Bird Conservancy as the only industry-leading application achieving a threat level of 18. In fact, it qualifies commercial buildings for LEED pilot 55 certifications and comes with an industry-leading 5-year manufacturer warranty, ensuring peace of mind for property owners. Let's delve into the advantages of Bird Divert and how it's transforming the way we protect birds and property in Denver:
Proprietary UV Technology
Bird Divert's effectiveness lies in its incorporation of UV reflective and absorbing technology. This advanced technology is instrumental in preventing bird collisions and making our cities safer for our feathered friends.
It's essential to understand how Bird Divert uses UV technology to safeguard birds. This technology creates a pattern that is visible within the avian spectrum, making birds aware of the potential hazard while remaining imperceptible to us. The result is a win-win situation where our windows remain unobstructed, and birds avoid collisions.
Industry Recognition
We're proud to share that Bird Divert has garnered recognition from the American Bird Conservancy, receiving a threat level rating of 18. This underscores its industry-leading status in bird safety solutions.
Versatile Applications
Bird Divert is incredibly versatile, offering solutions for reducing bird collisions in both residential and commercial settings. Whether you need to make an existing building bird-friendly or are designing a new one, Bird Divert is the answer. It even qualifies buildings for LEED pilot 55 certification.
When we talk about versatility, we mean that Bird Divert can be applied to any type of building, whether it's a cozy home in Washington Park or a high-rise in The Highlands. We are committed to making Denver a safer place for birds, and our versatile solution can be tailored to your specific needs.
Invisible to Humans, Visible to Birds
One of the most unique aspects of Bird Divert is its design – it's invisible to humans but highly visible to birds. With its optically-clear properties to our eyes, it's a subtle and effective solution to the problem of bird collisions.
Let's delve into the science behind this phenomenon. Bird Divert is designed with precise consideration of avian vision. Birds see a different spectrum of light compared to humans. This product takes advantage of this difference. It's made of a durable UV-absorbing and reflecting material, forming a dot matrix pattern that birds can clearly see as a barrier, while to us, it appears transparent.
Endorsed by Avian Experts
For added credibility and reliability, Bird Divert has received an endorsement from the National Audubon Society and is recognized by the American Bird Conservancy. These endorsements attest to the effectiveness of this remarkable product.
The National Audubon Society and the American Bird Conservancy are two of the most respected authorities in the field of avian conservation. When they endorse a product, you can be sure it meets the highest standards for bird safety.
Warranty
We stand behind Bird Divert's durability. This product comes with a remarkable 5-year manufacturer warranty. When you choose Bird Divert, you're choosing a solution that's built to last.
We understand that investing in bird safety is not just a short-term commitment. With this 5-year warranty, you have peace of mind that Bird Divert will continue to protect birds and your property for years to come. It's a long-term solution to a pressing problem.

Bird Divert Product Specifications
Here are some detailed insights into Bird Divert's specifications:
98% Visible Light Transmission (VLT)
3.2mm thickness
PVC acrylic hard coat material
Exterior application
Bird Divert was designed with precision to ensure it meets the highest standards of bird safety and property protection. These specifications showcase the quality and effectiveness of this innovative product.
Learn more by reading these resources:
Compliance with Building Code Requirements
Across the country, many cities and regions are enacting local laws that require building owners to comply with bird-friendly design requirements. Bird Divert can help you meet these requirements, ensuring your property is bird-safe.
Ensuring compliance with building code requirements is not only responsible but also a legal necessity in many areas. By choosing Bird Divert, you're taking a proactive step towards meeting these requirements while contributing to bird safety.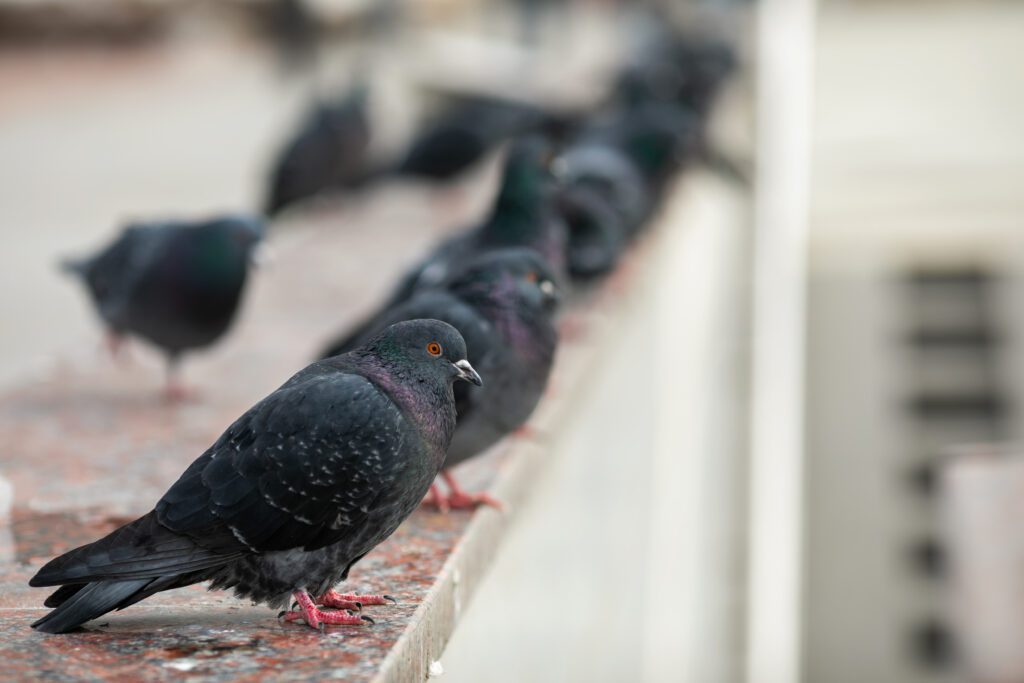 Get an Estimate on Bird Divert in Denver
We're dedicated to reducing bird collisions and preserving our city's bird populations. Denver Window Tinting installs Bird Divert for properties throughout the city, including Washington Park, Berkeley, The Highlands, Sloans Lake, and Hilltop.
If you're a Denver property owner concerned about bird safety and property protection, we encourage you to reach out to us. Let's schedule a consultation or provide you with a quote for Bird Divert installation. Together, we can make Denver a safer place for birds and your property.
Contact us today and be part of this innovative solution to protect our avian friends while safeguarding your property. Bird Divert is more than just a product; it's a commitment to making our community safer for everyone.